Download and Read Our 2020 Annual Report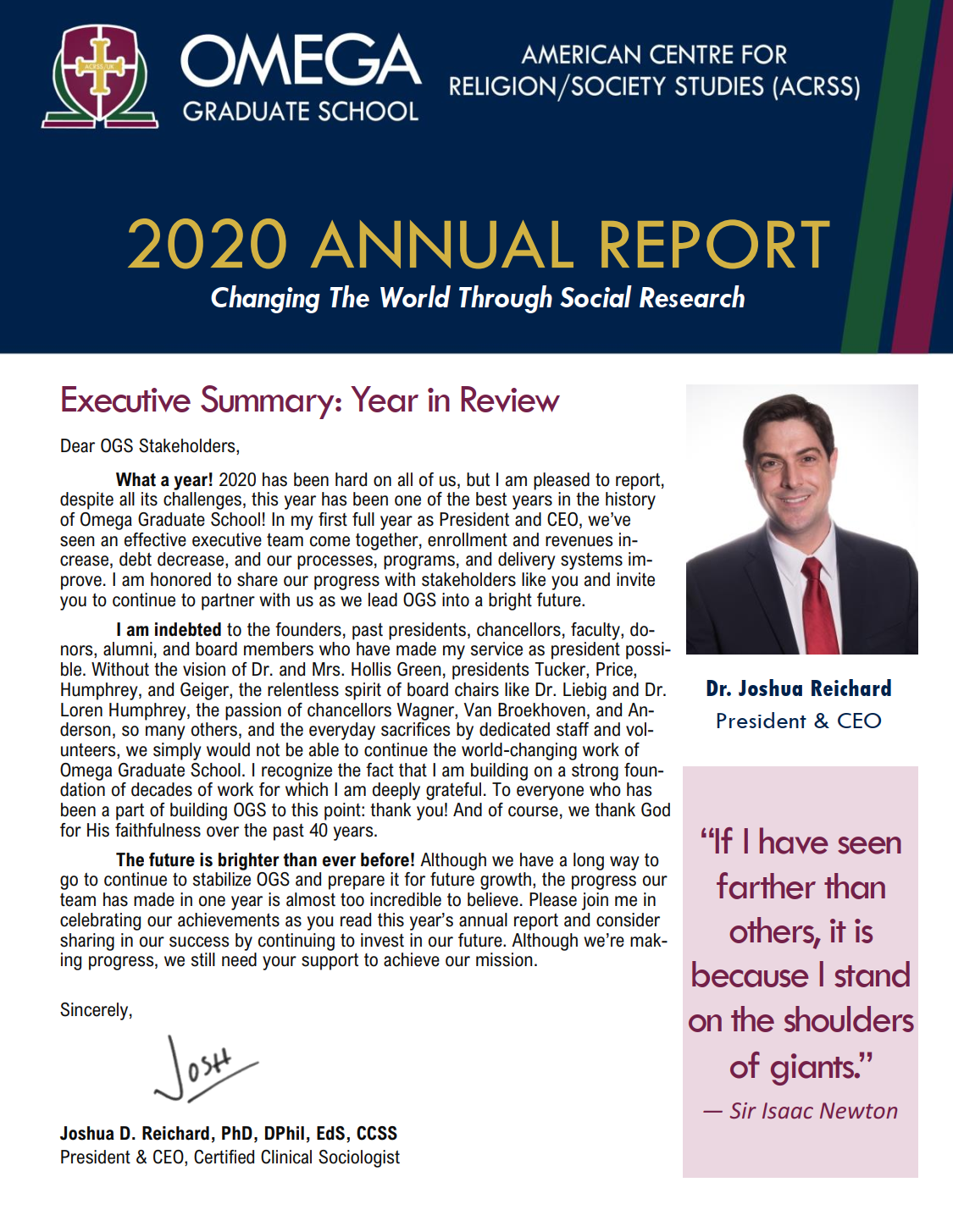 Omega Graduate School, the American Centre for Religion/Society Studies (ACRSS), is proud to publish our 2020 Annual Report, highlighting the "state of the school" and our major achievements in calendar year 2020.
The report is a downloadable PDF file. You may request a print copy from OGS by contacting Sharlene Daniel, CFOO, at sdaniel@ogs.edu.
Please read, share, and freely distribute this annual report with friends, alumni, students, and stakeholders of OGS!
Questions or Feedback on Our Annual Report?
Contact Dr. Josh Reichard, president@ogs.edu
Table of Contents
President's Executive Summary (p. 1)
Mission, Vision, Core Values, and Board of Regents (p. 3)
Presidential Prayer Summit (photo collage) (p. 4)
Student Success and Registrar Report (p. 5)
Spring 2020 Cores (pre-pandemic photo collage) (p. 6)
2020 Student Testimonies (pp. 7-8)
Institutional Effectiveness Highlights (p. 9)
Alumni Spotlight (p. 9)
Academic Report (pp. 10-12)
Introducing the Academic Team and New Faculty (p. 13)
Remembering Honoring Joanne Phillips and Honoring Dr. Bill Boyd (p. 13)
Library Report (p. 14)
Admissions Report (p. 14)
Future of Society of Scholars (p. 15)
Journal of Sociology and Christianity (p. 15)
Financial Report (pp. 16-17)
New Website (p. 18)
New Program: Gracism Studies Graduate Certificate (p. 18)
Message from the Chancellor (p. 19)
Message from the Chairman of the Board of Regents (p. 19)
Opportunities to Give to Omega Graduate School / ACRSS (p. 20)